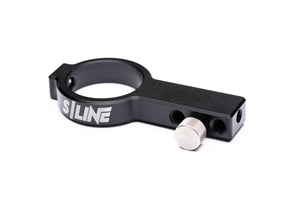 Product description, features & benefits:
S/LINE Pro - Frame Only (stainless steel antenna not included) 
EASY & QUICK to install!
The traction sports accessory to practice bikejor & kickbike with your dog safely!  This extra Frame allows you to mount on a different or multiple bikes so you can simply move the antenna portion between them, and the Quick Release Screw makes that easy to do!
 Included:
Ionized aluminum frame (10mm)
Fits 1 1/8" Headset/Handlebar Post (most common size/diameter)
Teflon spacer is available for smaller diameter posts
Features stainless steel quick release screw
Available in Black only