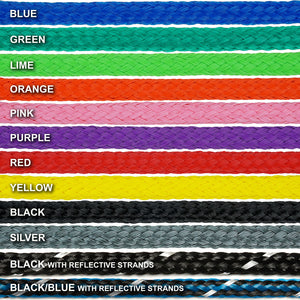 Product description, features & benefits:
Our polyethylene Raw Rope can be purchased by the foot in 6 mm, 8 mm, and 10 mm diameters. It is super strong, moisture and mildew resistant, floats, and has UV inhibitors to help preserve color and prolong life.
TO PLACE ORDER
Quantity: Select number of feet (ft.) desired.
Rope Thickness: Select 6 mm, 8 mm, or 10 mm thickness and/or Reflective option, if desired.
Color: After selecting Rope Thickness, color choices will appear. COLOR choices include Black, Blue, Green, Lime Green, Orange, Pink, Purple, Red, Yellow, Silver, and Reflective.
Regarding Reflective Rope, the 10mm (for Centerlines) is available in black weave with silver reflective strands woven throughout. The 8 mm (for Tug and Necklines) comes in a blue and black weave with reflective strands woven throughout.
PLEASE NOTE REGARDING SHIPPING COST:
Due to the nature of Bulk Rope sold by the foot, specifically volume (amount of space it will occupy in a shipping box or envelope) and weight, our system cannot automatically calculate a shipping cost for the Bulk Rope component of your order at time of Check-Out. In order to provide you with an accurate and most economical shipping cost, we will assemble your entire order and email an invoice to you for the incremental shipping cost of your Bulk Rope, which can easily be paid on the digital invoice link to our Secure Checkout with a credit card or PayPal. Thank you!