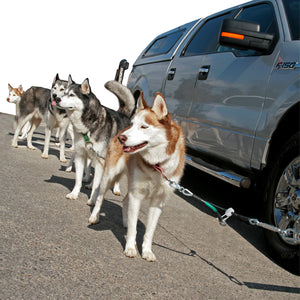 Product description, features & benefits:
Custom Cable-Filled Drop Line for your Off-Road Vehicle or Truck. Choose from 2 Drops – 4 Drops, one Drop for every dog. Made to your specifications with heavy-duty 3/16" galvanized aircraft cable for strength and durability. Stores nicely, keep clean and are half the weight of chain.

Features swivel design drops with 5/8" durable, dependable Italian Bronze Snaps.

A turnbuckle is added per picket line to allow for tension adjustment. Includes two (2) non-locking carabiners for quick attachment to the Truck Bar (optional) eye hooks. 
Base price includes 2 Drops. Choose the number of Drops you would like from the Dropdown.

Select from the color of rope sheath on drops from the color pallet above.

LENGTH MEASUREMENT INSTRUCTIONS
Please type in the exact length between points of attachment or Truck Bar eye bolts (to the center of each eye bolt, in the Comment Box. IMPORTANT TIP! Two people should measure to make sure the measuring tape is taut...a sagging tape will result in a sagging line. Please measure with cloth measuring tape and be as exact as possible, to 1/4 of an inch.
Please contact us of you have any questions regarding this product, how to measure, etc.
For Optional Truck Bar with Eye Bolts: Please call contact us to discuss design, attachment, and price options.