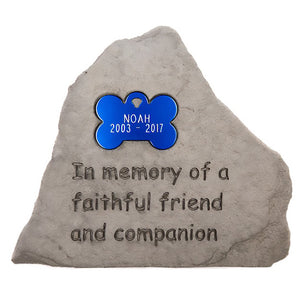 Product description, features & benefits:
Whether for a gift or to memorialize your own cherished canine family member, our Personalized and Engraved Memorial Stone is a beautiful remembrance piece.
A THOUGHTFUL PET LOSS SYMPATHY GIFT: Help a friend or loved one remember their special dog with this beautiful pet memorial stone that incorporates a bone tag with the dog's name engraved on it. The stone is etched with "In memory of a faithful friend and companion" and lets you memorialize that special companion who is no longer here.

HONOR THE LOSS OF A FURRY FAMILY MEMBER: This special keepsake will keep your dog's memory alive, and honor his/her memory with this beautifully crafted memorial stone.

MADE OF CAST STONE: 5 1/2 inches wide by 5 inches tall, free-standing or can be wall-hung, and has the look and feel of a real stone.

A maximum of two lines can be engraved in the tag. Include your dog's name and a brief descriptor or date your time together. A maximum of 20 characters per line, including spaces, will fit. To maximize visual appeal, we suggest that you limit the number of spaces to more than 14. For example:
Baxter
2005 - 2019
Please note if you would like 1 or 2 lines in the Special Instruction/Request Box.