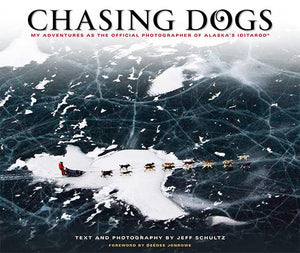 Product description, features & benefits:
"Chasing Dogs will take you for a wild ride on the Last Great Race on Earth®, the Iditarod®. Feel the chill of the wind in your hair and the sled under your feet as you explore the frozen tundra of the Last Frontier." — James K. Colton, former Director of Photography for Newsweek; former Photography Editor for Sports Illustrated
Chasing Dogs offers a rare backstage tour of the Iditarod Trail Sled Dog Race® at the invitation of Alaskan photographer Jeff Schultz. Since 1982, Schultz has served as Iditarod's official photographer, traveling by plane, snowmachine, snowshoes, and on foot to capture the race as no one else has.
His images of the amazing dogs, adventurous people, and magnificent landscapes will stay with you long after you close the book. Over the course of his thirty-plus-year career, Schultz has become as iconic as the race itself, having experienced the same harsh trail conditions and weather hazards as the race participants while artfully chronicling their journeys. In Chasing Dogs, Schultz's stories and photos illuminate what it takes to prepare for and execute the Last Great Race on Earth®, from the race administrators and judges, to the mushers, volunteers, villagers, thousands of fans… and the dogs that they all love. You'll read about Jeff's fortuitous meeting with the founder of the race, how that meeting changed Jeff's life forever, and nearly cost him his life during one race. You'll discover, too, that Chasing Dogs is a thousand miles of wonder without fear of frostbite.
CONTENTS:
Dozens of never-before published photos
In-depth story and photos of Jeff's 1992 near-death plane crash
Alaska backcountry adventure
Behind-the-scenes information and photos of the Iditarod
The "back story" of some of Jeff's most iconic Iditarod photos
Jeff's tips for getting along in Alaska's winter wilderness
SPECIFICATIONS:
Trim Size: 11″ x 9.25″
Pages: 168
Photos: over 300, color
Format: Softbound Sewn