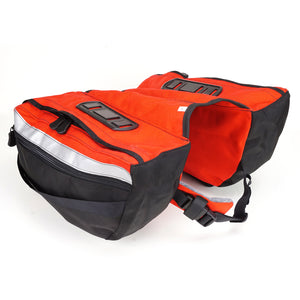 Product description, features & benefits:
The BANZAI Explorer Dog Pack is Wolf Pack's top of the line design. Tough ballistic nylon brush guards double as handy outer pockets that zip closed.
Horizontal compression straps squeeze the load forward, towards the dog's shoulders - the strongest part of the dog's back.

3M Scotchlite reflective trim ensures your dog can be seen by nighttime traffic.

SIZES & Specifications
Small - Medium - Large -  X-Large
Your Dog's Measurements: 22"-30",  26"-34",  30"-40",  33"-46"
*Capacity (Cubic inches): 650,  1150,  1600,  2200
Pack Weight (Reflector): .75 lbs.,  .90 lbs.,  1 lb.,  1.2 lbs.
Pack Weight (Banzai): 1 lb.,  1.2 lbs.,  1.4 lbs.,  1.6 lbs
*Pannier Size: 13"L x 4.5"W x 6.5"H,  15"L x 5"W x 8.5"H,  16"L x 5.5"W x 9.75"H,  17.5"L x6"W x 11.25"H

*Capacity is the total volume for the entire dog pack (both panniers). Pannier Size is the size of one pannier.
Refer to the measurement instructions below to ensure the perfect fit!
To measure your dog for a Wolf Pack, take a WAIST MEASUREMENT around the dog's body at a point about 2/3 of the way back from the front to the hind legs.  This is not normally the narrowest part of the dog's body.
Refer to this chart for the best pack size:
Extreme breeds such as greyhounds or mastiffs may require a different size.
SMALL: 22-30 inches, 30-50 pounds
MEDIUM: 26-34 inches, 50-85 pounds
LARGE: 30-40 inches, 85-120 pounds
X-LARGE: 33-46 inches, 120+ pounds

Wolf Packs are available in Red, Forest Green and Royal Blue.
For more information about hiking with your dog, visit Wolf Pack's informational website at: WolfPacks.com