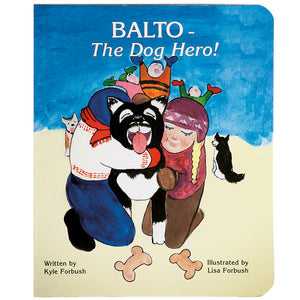 Product description, features & benefits:
In 1925 a diphtheria epidemic was spreading in Nome, Alaska. A train transported the needed medicine as far as it could but most of the journey had to done by dogsled.
Balto - The Dog Hero! is the true story of how mushers and their dogs braved the worst of conditions to get to Nome in time to save the children. It is told by Balto, the most famous of those dogs.

Best suited for 8 and under. Nicely illustrated. Heavy card pages for the little ones.

Written by Kyle Forbush. Illustrated by Lisa Forbush.