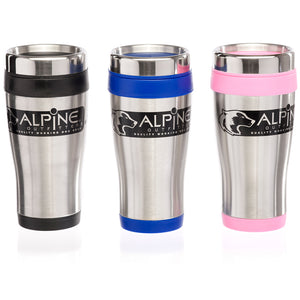 Product description, features & benefits:
Drink your coffee in this stylish mug that shows everyone you love sled dogs!
Our 16 oz. contoured tumbler features a double-wall construction with a stainless steel outer wall and colored polypropylene liner.
Features a stainless steel rim and plastic twist-on lid with sliding closure.
Fits most auto cup holders.
Available in Black, Blue or Pink color bands.