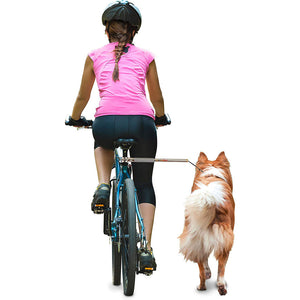 Product description, features & benefits:
Bring your favorite exercise partner along for a leisurely ride with the Walky Dog Plus Bicycle Exercise Dog Leash, perfect for use in combination with our Standard Urban Trail Harness (HR006), Adjustable Urban Trail Harness (HR008), or our Ready-To-Go Adjustable Urban Trail Harness (HR008 RTG); all three are fully-padded and are available with optional side D-Rings for the Walky Dog!
Offering a safe way for you to ride your bike and walk your dog at the same time, this design works with a stainless steel wand that easily installs on your bike. Inside the wand is a super-strong leash that attaches to your dog's collar or harness, keeping him at the perfect distance by your side.
The  internal shock-absorbing system prevents him from pulling you off the bike in the event of a sudden movement—so even if he takes off after that squirrel, you will maintain your balance.
You  can quickly switch from bike to bike with the quick lock and release capability, and it works with dogs of all sizes, making it the easiest way to enjoy a biking activity with your dog!
Features a military-grade, rot-resistant leash and high-carbon stainless steel wand that has 550 pounds of pull strength.
Internal shock-absorbing system allows for your dog to make sudden movements without pulling you off the bike.
Short leash keeps your dog close to the bike and prevents him from getting ahead or behind the bike; add 6.5 inches by taking out 2 springs.
Installs on any bike in virtually minutes with a quick lock and release capability that allows for easy switching between bikes.
Patented quick release allows you to disconnect your dog from the bike immediately.  Works with dogs of all sizes!