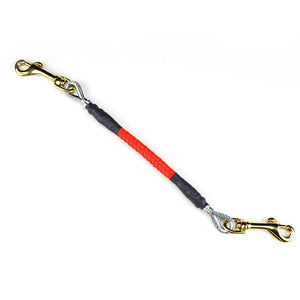 Product description, features & benefits:
Double Neckline filled with galvanized aircraft cable. Features lightweight, strong 3/8-inch solid brass snaps on both ends. 5/8 inch Italian bronze snap upgrade available.

Approximately 14 inches from end-of-snap to end-of-snap.
Double Necklines are available in a wide assortment of colors including Reflective rope for nighttime visibility and safety for those who run their dogs in the evening or early morning hours! Made with high-quality polyethylene rope in blue and black weave with silver reflective strands.