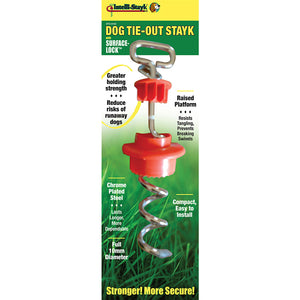 Product description, features & benefits:
World's Strongest, Most Secure Dog Tie-Out Stake. Heavy Duty!
Perfect for use with our Picketlines and Cable Drop Lines when a stationary object to secure to, i.e. truck, tree or post, is not an option.
Designed to keep your dogs in place.
SURFACE-LOCK feature eliminates side-to-side movement. providing greater holding strength.
Raised platform allows the leash to easily rotate to prevent tangling.
Unique design reduces the ability to bend, break.
Large handle and overall heavy duty design makes it easier to screw down into ground.