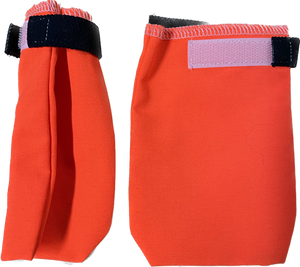 Product description, features & benefits:
Our 330 Denier Cordura Booties are made from a durable fabric that is lightweight and flexible. They are constructed with stretch Velcro for a snug fit.
Good for both snow and smooth trail surfaces. Available in Hot Orange for all sizes.
Booties are sold individually (1 = 1 booty) - for a pair, please order 2, and for a set, please order 4 booties.
Please specify size when ordering: Small, Medium or Large. The Opening Size and the Total Length for each of the three Bootie sizes is as follows:
SMALL - Opening Size: 3", Total Length: 5"
MEDIUM - Opening Size: 3.5", Total Length: 5.25"
LARGE - Opening Size: 4", Total Length: 5.25"