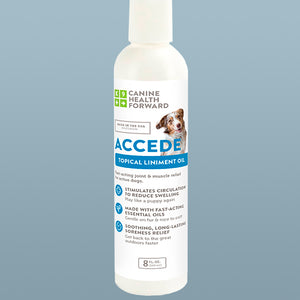 Product description, features & benefits:
ACCEDE, by Canine Health Forward, provides fast-acting joint and muscle relief for active dogs. Soothing canine liniment for muscle soreness and joint swelling.
Contains no prohibited drugs. 8.0 fl oz. Bottle. Made in the USA.

Stimulates circulation to reduce swelling. Play like a puppy again.
Made with fast-acting essential oils. Gentle on fur and nice to sniff.
Soothing, long-lasting soreness relief. Get back to great outdoors faster.
Directions: Massage into muscles or joints thoroughly prior to competition and after strenuous exercise. If necessary, cover treated area with an insulating wrap, such as our Canine Carpal Wraps. Reapply as necessary. A little goes a long way.
Accede is a concentrated oil-based formula that is easy to apply and effective with light to moderate application,

CAUTION: Not for human use.