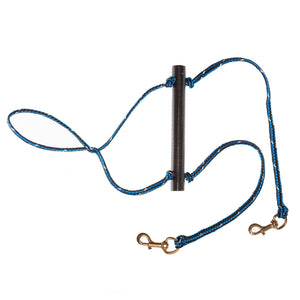 Product description, features & benefits:
Y-line / Leader section for running 2 dogs on lead. Comes with rope tuglines and a 9-inch wooden spreader bar. Double necklines sold separately.

The stick holds the tuglines apart helps keep them pulling in a straight line. Helps with crabbing, works for distance and sprinting, excellent for BIG dogs.

Note: The wooden spreader bar is NOT a handle. If used properly, the bar should not break. Custom stick sizes available upon request.
Available in wide assortment of colors, including Reflective rope for nighttime visibility and safety for those who run their dogs in the evening or early morning hours! Made with high quality polyethylene rope. Reflective rope is a black & blue weave with silver reflective strands.