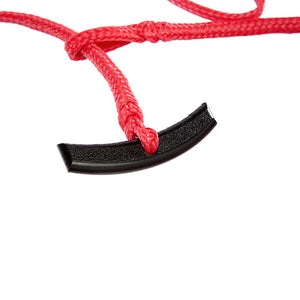 Product description, features & benefits:
Our Tugline Toggle, Tug & Harness Line Combo includes a Toggle that has been fidded to a 30-inch (or custom length) Tugline and an 18-inch Harness Line. This configuration of lines allows you to use the Toggle, aka Eskimo Hook, which is a high-tech version of the traditional Inuit-based approach to hook tuglines to harnesses. It serves as an alternative to bronze or brass snaps.
Our Toggles are 4-inches wide and hand-cut from high-quality, UV-stabilized, weather-resistant, Marine-grade, black HDPE plastic. All edges and corners are rounded to minimize wear on tuglines. Toggles are designed for use with 8mm polyethylene tight-weave rope.
Please select your color of choice for the Tugline and Harness Line from the color swatch above. The Tugline comes in standard 30-inch length, although you can request a custom length (see instructions below). The Harness Line comes in standard 18-inch length.
Instructions to Measure Centerline: To ensure perfect Tugline length, measure the distance between the inside of each end loop on your centerline. With that measurement, we can determine the proper Tugline length to work with the 18" Harness Tug Extender Line. For example, if the standard tugline you normally use is 48 inches, then your fidded Tugline will be 30 inches. This fidded Tugline plus the 18-inch Harness Line equals 48 inches total tugline length. Please note your measurement in the box above.

Iditarod Veteran Karen Ramstead shows how she has used this style Tugline Toggle, Tug & Harness Line Combo in the following link: 

https://www.youtube.com/watch?v=8jQqI6PrTmI
 Toggle Benefits:

Lightweight

Strong and reliable
Won't freeze
Won't jam with sand, dirt, mud, or excrement
Will not splinter, rot, or delaminate
Will not absorb moisture
Textured matte surface